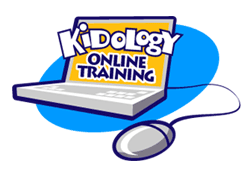 One of the things I am hopin' to start doing soon is offering Kidology workshops online. I've already been invited to join the faculty of Children's Ministry University Online, and am teaching my second course right now. (And will be teaching the "Pastoring Children" course for those who sign up before April 1st – join me!)
My goal is to help provide online training 24/7 for children's workers anywhere in the world who have access to the Internet. I've been kinda dabbling it in a little already. I put my Raising Rock Solid Kids classes online on my church CM website and have been encouraged to find out how many people are using those. A children's pastor in Michigan told me today he has been converting them to MP3s to listen to on the road. (He has offered to send me the MP3s and I'll add them to the site) You can check those out at: www.vcbkids.org/rocksolidkids

I also just converted my first conference workshop to an MP3 file. Earlier this month I had the opportunity to minister at OCEA 2006. The only strange thing was that the company that did the recording put a 5-10 second gap every ten seconds in the recording, and ironically, often it was a key phrase that got chopped off. However, one of the nice new features of the MacBook Pro is that you can click one button and record audio, so I 'patched' the gaps with the missing lines. You will hear the brief ambient noise change, but the content is here. Below is a link to this workshop, Kidology 101.
This workshop is my favorite, in that it is my 'core' workshop on my philosophy of ministry: RELATIONAL ministry. Plus, the room was also PACKED with standing room only, so there was great energy in the room and it was refreshing to be in a place so full of fellow children's ministers so eager to learn and be challenged. Feedback from the conference is available in the Kidology forum where I also linked all my powerpoints and workshop handouts for those interested.
I'd love have some feedback on the MP3 link below. More specifically, on whether a regular source of workshops like this would be helpful to children's workers, how you listen to it, whether a podcast would be desired, etc. I am convinced Kidology needs to provide online training – the ideal format / delivery options is still in discussion. Your feedback will influence the direction we go.
Let me know! Enjoy the workshop!
KIDOLOGY 101: Effective Relational Ministry to Kids (75MB, so be patient! But it should stream if you just click on it.)
As presented at OCEA 2006.
Looking forward to your feedback!