This is the second of a series on our Kid U 2008 Celebration Conference. (previous)

It's no secret to Kidology users that I've been a huge fan of Speed Stacks since, well, before I even discovered Speed Stacks! I got my first set of generic stacking cups as my mother's final Christmas gift to me the year she died of cancer. Her hand written note said, "I'm sure you'll find a way to use these to entertain and teach kids." Soon, I had developed my rules and was using cup stacking racing in my ministry. It wasn't until a CPC several years later that I stumbled upon the booth for Speed Stacks, the premier manufacturer of cup stacking cups and the primary promoter of the Sport of "Sport Stacking." I immediately signed up to be a member of the WSSA.
World Sport Stacking Association
www.worldsportstackingassociation.org
While I have never been able to attend the World Championship Tournament in Denver (which has been covered by ESPN) I hope to make it there someday to see if I can't go home with a trophy. I have competed against a professional football player and won, as well as world champion and legend Emily Fox, as you can see here:
So when it came time to start planning our 10th anniversary Kidology University I quickly decided having a Stacking Competition would be a fan aspect to the conference, as well as help our attendees discover this fun sport for kids that actually can be a VERY effective outreach tool in the church.
I demonstrated Sport Stacking (the official term for the sport) in the opening session, and then folks were able to try it hands on in the exhibit hall.
We brought some kids to the conference to demonstrate and teach the attendees how to Sport Stack and then gave them the opportunity to qualify for a competition in the closing session on Saturday.
After three days of learning, competing and recording scores, only 8 finalists were called upon to compete in the final BattleStack Competition! What is a BattleStack? Only the newest coolest product from Speed Stacks:
When Saturday final arrived, I called up the 8 attendees who had recorded the fastest scores in the exhibit hall to compete on the BattleStack!
Competition was fierce, but it all came down to two clowns. One professional clown, Debbie George from Merry Heart Clowns (one of our trainers) and Pastor Ken Wheeler from Graceland Baptist Church of New Albany Indiana.
Competing against a clown must have been intimidating to Ken…
In fact, it proved to be too much, as Ken got a whoopin' from a clown!
Who instantly broke into a victory dance all over the stage! Actually, it may have been ME that was intimidated by the clown, because I had promised to challenge the winner of the competition and I completely forgot to race the winner! So we'll never know whether I would have won or not!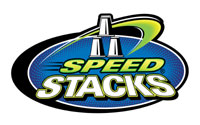 Many thanks to Speed Stacks for sponsoring Kid U and providing the BattleStack games and awesome prizes to our winners. All eight went home with some cool Sport Stacking equipment!
As I always say, "Don't be a Slacker, be a Stacker!"