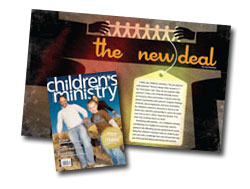 First, George Barna confirmed what those of us in children's ministry have known all along – that the ripest spiritual field is children, and that the most strategic way to stop the disappearance of a biblical world view in our church is to renew our commitment to children.
Next, Larry Fowler established the biblical basis for churches not just value children, but prioritize ministry to children. Others then followed with a renewed call to broaden the scope of children's ministry to include the entire family, the loudest voice being Reggie Joiner asking us to rethink ministry at the Orange Conference offering their virtue-based family time resources and strategy to incorporate complete families in the Sunday church experience.
Then Awana Clubs, long known for its success at reaching unchurched children and providing kids a solid biblical foundation surprised us by dramatically altering its approach and confessing its past "let us disciple your kids" attitude was insufficient and began to completely re-engineer its programs to better include parents in the process.
Soon many more, like Julia Duin in Quitting Church, began revealing stats showing just how poorly we are doing in translating Bible Quiz-Whiz kids into faithful disciples when they got old enough to choose whether to attend church or not.
While DiscipleLand has long offered a comprehensive home-based/church-supported curriculum strategy for discipling children, other companies all over the map are waking up to the need to engage the home rather than just keep adding to the programs and resources available at church. "Family Ministry" and "Partnering with Parents" are the buzz words appearing everywhere.
Then Larry Fowler was back with a strategy to build a comprehensive birth to high school strategy for preparing the next generation to be spiritually strong and healthy; to be "Modern Day Josephs" in an ever increasingly secular culture. Most recently, D6 (Deuteronomy chapter six) has splashed on the scene offering not only a family-wide church curriculum, but also devotional magazines from preschool through adulthood aiming to get the entire family in sync with what they are learning in the home.
Everywhere you look, from workshops at CPC to the newest children's ministry leadership books, you are hearing a growing call: The spiritual formation of children must be done by parents, not for parents. The church's role is shifting from one of serving and supporting parents to one of empowering, equipping and encouraging parents.
If you can't feel the wave growing, you've either let it pass ahead of you – or should see the swell rising behind you. To best "surf" this growing ministry wave, you'll need to carefully watch the swell growing, letting some of the smaller advance ones pass, position yourself in the best spot, start paddling in the right direction, and get ready to start pushing down at just the right moment. Soon you too can stand up and ride it in!
Perhaps you are convinced already. Children's Ministry "as usual" isn't cutting it. You've got to better partner with parents if you truly want to see children transformed into spiritual champion and modern day Josephs. But how?
Let me tell you this. The answer isn't another curriculum, resource or program. That doesn't mean you might not switch to DiscipleLand, send home FamilyTime CDs, encourage the use of D6 devotional magazines, or establish new programs or plan various family events. But these cannot be your solution. They can only be components of YOUR strategy. The solution for your church begins with you and your pastor.
As I wrote about in my article The New Deal, in the Jan/Feb 09 issue of Children's Ministry Magazine, and expounded upon and detailed in my Kidology Leadership Lab: Partnering with Parents, the key is to start with a brutally honest and open conversation with parents as to what their needs, desires, frustrations, struggles, and hopes are for their kids and how they see the church helping  or hindering their efforts.
Next, I would suggest, you've got to step back and ask yourself three key questions about every age level in your ministry:
1.    What KNOWLEDGE do I want them to have?
2.    What SKILLS do I want them to have?
3.    What EXPERIENCES would I like them to have?
KNOWLEDGE: There is obviously a great need for teaching children the Bible and the truth it contains. Most ministries do this fairly well. Few can give you an overview of their strategy to ensure what their student will or should know at the various stages of growing up. A genuine strategy for forming disciples requires that the organizer of the process know what the long term goals are. As the old saying goes, "If you aim at nothing, you are sure to hit it!" Now extend this to families! What knowledge do families need to be successful? Do we run the risk of filling our kids with a whole host of biblical trivia and neglect giving families the knowledge they need in order translate what the children are learning at church into real life? Perhaps it is time to get out paper and pencil and start writing out what you believe your families need to know to succeed, and then start evaluating whether they do, how they can, and how you'll evaluate if they do?
SKILLS: My experience has been that the vast majority of church, if they focus intentionally on what their children need to know, stop there. But knowledge alone does make a disciple. (James warns that even demons know the truth about God, and shudder!) A disciple is one who lives out the knowledge of God in their daily life, and to do so requires key skills. Bible skills, while often taught to children, are only the beginning. We all learned to drive a car while young, but would all agree there is much more to driving than operating a car. Likewise, being able to navigate a Bible is useless if one doesn't know how to study, understand and then apply what is discovered to life. Have you listed, by age range, what you want your children, youth and parents to be able to DO as a follower of Christ?
EXPERIENCE: The third aspect touches on one of the weaknesses of church programming. In the creating of programs and planning of events, we are often quick to forget the PURPOSE of programs and events. They are not the end – they are the means to the end. The goal of a church ministry is not to create programs or events, it is to create life experiences that impact the spiritual growth of the individuals enrolled in the program or attending the event. This is an important distinction because not all experiences that a disciple needs on along their spiritual journey can be programmed or created via an event. Programs and events can only create a context for life experiences. So, again, I would challenge you to invest some time in asking and answering the question, what experiences do the children, youth and families of my church need to grow as disciples of Jesus?
One of the best things you could do for your ministry is to mentally set aside all your programs, events and plans and answer the questions above. Then, after having answered them, take a look at your programs, events and plans and consider the following:
1.    What is the best thing I could stop doing that doesn't fit these objectives?
2.    Does my curriculum support these objectives? (Beyond just teaching Bible knowledge)
3.    How do my standing programs help or hinder these objectives?
4.    What events do I need to create in order to provide the needed life experiences?
5.    What events do I need to cancel because they may be good, but are no longer on target?
6.    What experiences can no program or event create? How can I foster those experiences?
7.    How can I help families develop the skills they need to keep growing?
In order to develop a ministry-wide strategy of making disciples, you must start to not only include parents in your considerations, but make them an essential ingredient. This will take effort, creativity, and a willingness to accept; even initiate change. "Ministry as usual" is certainly easier, but if long-term results are what we are truly after, then we must be willing to make adjustments now. If only one degree of change now can have incredible long-term results later, imagine the eternal impact of being more strategic now. Most ministries probably need more than one degree of change, but we'll have all eternity to enjoy the results if we don't hesitate. It all starts with asking the right questions. The answers to these questions will be different in every church. But if you don't ask, you'll never enjoy the results.
Because Jesus Loves Families,
Karl Bastian
---
Here are some helpful resources from Kidology.org to help you address this growing need to include parents in children's minisitry.
Download The New Deal
(PDF, 316k)

Discuss Partnering with Parents
(Kidology Network Forums)

Watch Leadership Lab #4: Partnering with Parents
(Kidology Online Training)

Purchase Leadership Lab Download Kit
(Kidology Store)