And the GRAND PRIZE, "The Bastian Family!"
We couldn't believe our ears! We were at our church's Family Gingerbread House making event, and there were well over 100 families making yummy houses. When they announced there was a competition and my wife saw my face slightly change she said, "You're not competing are you?" I answered, "Of course!" (Men, you understand.) But I didn't seriously think we had a chance, after all, I had a four year old on my team who I was not going to cut out of the process to increase my chances.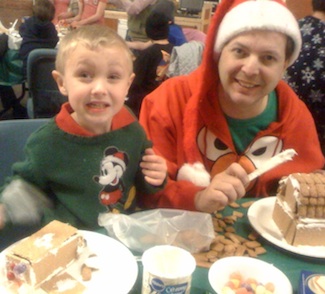 We struggled away with our house, since we didn't cheat and use a kit (!) and even added shingles and a chimney! When we heard the ten minute warning three sides were still blank! I then realized that the chimney look a little like a steeple, so I quickly added a triangle and a cross just as we slapped on frosting and stuck candy all over the sides!
When I got to the tables and saw all the amazing creations I thought we don't have a chance but as I was setting ours down I overheard the judges say, "Look at that and its not a kit." Wow, that was encouraging!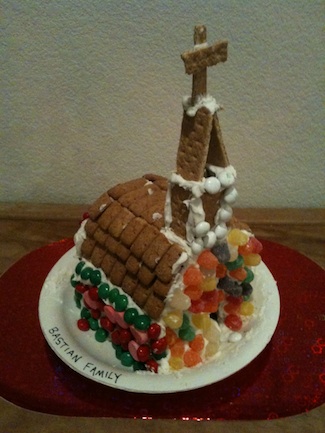 When we ultimately won out of so many entries we were laughing all the way home. There were so many incredibly amazing creations there! Lots that, if I had been a judge, I would have chosen over my own. But for some reason, ours was chosen – perhaps for the family effort, the shingles, and the steeple. I mean, it IS a neat Gingerbread Church, I don't mean to belittle our hard work. But there were some other amazing ones there too. We just DID NOT expect to win! But we'll take it!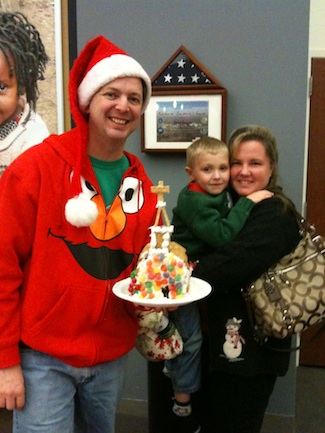 It made me think of Mary and Joseph – the most unlikely couple to be chosen to "win" the choice as the Parents of Son of God. A single teen age girl? A young man with no experience? Poor and unknown! So many others would have been more impressive.
But God chose them. Like us when we heard our name announced, they were probably laughing too that God chose them of all people!
Even when I look at the growth and impact of Kidology – and then consider myself, I have to laugh again. That God would choose me. God truly has a sense of humor as well as grace and delights in choosing those who don't deserve to be used. I think that's a big part of the meaning of both Christmas and the Cross.
We wish you a laughter filled Merry Christmas!