Join Karl at Kidmin Conference this fall!

Save $100 – If you register by May 1st!

I'm excited to be presenting at Group's Kidmin Conference in Chicago this fall.
I'll be teaching workshops on Unleasing Your God-Given Creativity, Adding Pizzazz  to Your Teaching, and Becoming KIDmissional.
These are extended hands-on learning experiences that will transform your teaching and give you practical ministry tools you can go home and immediately implement!

Learn more and save $100 by registering before May 1st.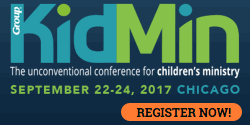 To see my workshop descriptions, visit the Presenters page and click View Sessions under his name.
I hope to see you there!
Because Jesus Loves Children,
Karl Bastian