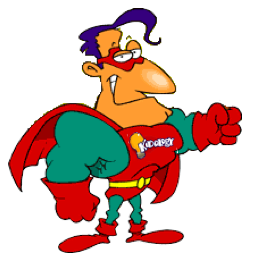 CHAMPION: An ardent defender or supporter of a cause or team. A person who fights for or defends a person or cause. To support, defend, protect and maintain a cause.

HERE IS HOW YOU CAN HELP US!

1. SIGN UP for the Kidology Champion E-mail List
This unique newsletter is different from our regular monthly newsletter. These are personal updates from our founder, Karl Bastian, to let our Champions know timely and specific needs for prayer. It is sent periodically on an as needed basis, but never more than 2-3 times a month. No membership or donation is required to subscribe to this newsletter list. Sign Up Today! (If you already get the Kidology Newsletter, follow the instructions to update your profile. You will then be able to add the Kidology Champions list to your subscriptions.)
2. MAKE A $99 KIDOLOGY CHAMPION DONATION
Join our Team of Kidology Champions who support Kidology.org at $99 a year above and beyond the site membership. (or for non-members who want to support the ministry) This donation is tax deductible. Kidology is a 501c(3) non-profit registered in the state of Illinois. We have an independent audit conducted each year to ensure that donations are handled with the utmost care and accountability. We value your support and hope you'll become a Kidology Champion. Donate Today!
CHAMPION BENEFITS
While a donation has to be given without any expectation of tangible benefit to be tax deductible, the reality is that we regularly look for ways that we can thank our Kidology Champions for their generous support in a variety of creative ways such as, but not limited to, the following:

Personal e-mail reports from our founder, Karl Bastian, the Kidologist.
Special "sneak peeks" at what is coming soon on Kidology.org
First access to new features on the site and new products.
Kidology Champion title under your avatar in the forum.
(if Professional Level Member)
Random gifts in the mail as we often have vendor samples and products to give away
FREE REGISTRATION AT ANY KIDOLOGY TO GO CONFERENCE
OUR MISSION: To equip and encourage those who minister to children.
Kidology Inc. is a faith based ministry and we need your help. We hope that our members find great value in our website and that the resources we provide are a genuine help in your ministry. However, while our membership fees and product sales help to maintain the high costs of maintaining this website, the reality is that we rely on the support of donations to sustain our staff, future site development, and all other ministry efforts. Many people often tell us that the nominal annual fee we charge is far under the value they get from the site's content and forum interaction and product access and discounts. We want to keep the fees as low as possible. So if you find the value of the site exceeds what we charge, prayerfully consider becoming a Kidology Champion.
We are experiencing tremendous growth in the traffic on our site and we praise God for how he continues to bless our efforts to pursue our mission with passion and excellence. But we need your help. The costs of maintaining a site of this caliber are high and need donations to keep our membership fees so low. We have needed to invest significantly on new hosting and other enhancements to sustain a site that is visited by thousands a day in multiple countries 24/7. We are committed to not raising our membership fees for as long as possible and to continuing to give free memberships to students, overseas missionaries, and those who genuinely can not afford it.
Kidology Champions are those who want to say, "I believe in Kidology and want to support the staff and development of Kidology by going that extra mile!"
AS WE APPROACH THE END OF 2007 WE HAVE SOME CRITICAL FINANCIAL NEEDS AND WOULD BE GREATLY ENCOURAGED BY YOUR DONATION TO HELP US END THE YEAR STRONG AND READY FOR WHAT GOD HAS FOR US IN 2008!
Your support tells us: "Rise Up; this matter is in your hands. We will support you, so take courage and do it." (Ezra 1-:4)
Thank You for your prayer and support,
The Kidology Team
You may also make a donation of any size on our donation page or by mailing a check to our office:
Kidology Inc.
1205 Karl Court, Suite 108
Wauconda, IL 60084