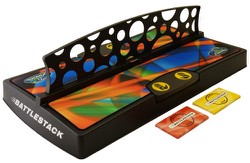 As mentioned in my podcast interview with Speed Stack's Roger Washburn, I was sent one of the very first BattleStack games! And wasted no time in arranging the ultimate battle between boys and girls with my nephew and niece!
Here is the video via YouTube:
Or you can download a higher resolution QuickTime file. (37.4mb)
AND, YES! You can buy a BattleStack Game in the Kidology Store: BE ONE OF THE FIRST TO OWN THIS!
I know at many churches I've seen Speed Stack cups available to kids, but they often don't know what to do with them if they've not been taught. But with the BattleStack any kids can instantly start to play using the BattleStack cards. What a GREAT GAME to make available for the kids that are early or hanging around afterwards waiting for Mom and Dad to get them! (Hint: you need at least two!)