Welcome to the first Kidology Update here on my blog. With the launch of the new Kidology.org, I now have a Kidology Update section right on the homepage of Kidology.org. These weekly updates will appear both here on my blog under the Kidology Update category as well as on the home page of Kidology.org. This way, they are archived here on my blog in addition to providing a way to comment on them. I am excited to be able to have some space on Kidology's home page to provide a "personal touch" from me – something folks have asked for as Kidology has grown. Just wanted to explain the Kidology Update to my blog readers.
Now on to the first Kidology Update: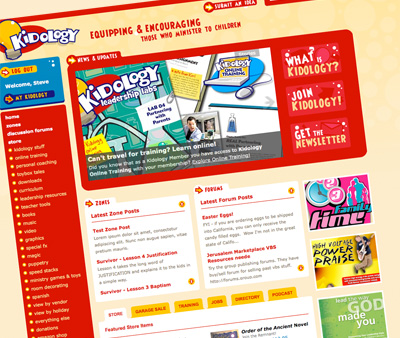 We are excited to finally launch our brand new Kidology.org website! In addition to an exciting new look, we have made the home page more powerful than ever before! You can now see quickly what is new in our idea-packed Zones, in the Forum, Job Center, Resource Directory, Garage Sale, Store, and more! Whereas in the past you needed to scroll down the entire homepage to see all the news items, they now are available at the top of the site where they automatically scroll through each, or you can choose the one you are looking for by clicking on Stories.
See What's New on Kidology.org for a complete description of the changes that have just taken place!
I'm very excited to also have this prominent place on the home page to add a "personal touch" to highlight the things I am most excited about each week. This "From the Kidologist" area is a duplication of posts to my blog under the Kidology Updates category. You'll be able to comment on these posts over on my blog as well as read past entries in case you missed it, or are looking for something I mentioned in a previous post.
And DON'T MISS the two "WebOuts" found on the What is Kidology? page and Who is Karl?
If you aren't a member of Kidology.org, JOIN TODAY so you don't miss out on all the new stuff. There's more, but I'll save that for the next update!