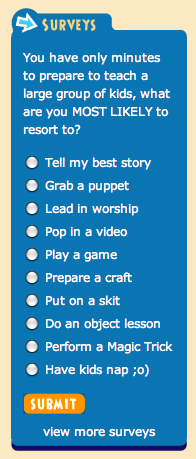 Welcome to the 3rd Kidology Home Page Update! 
This week, I'd like to encourage you to check out the brand new Kidology Surveys. This is YOUR PLACE to voice your opinion as well as see what others are thinking on various topics in children's ministry.
We'd love for leaders to weigh in the Children's Ministry Leader Survey, or if you are a volunteer, drop into the CM Volunteer/Worker's Survey. 
I would especially appreciate your feedback on Kidology.org in the How I Use Kidology.org survey, and you'll notice the results can only be seen by our staff, so you can feel free to be honest. (but be nice too!)
We also plan to have some fun surveys as well, such as the current In a Pinch! survey that is just about your favorite "last minute" teaching technique.
So just over to SURVEYS now and add your input. AND, if you have a suggestion for a survey, let me know!
If you missed the past updates, you can check them out on the Archive, or visit either directly: