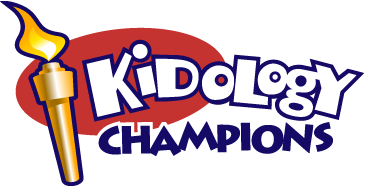 Champion:
An ardent defender or supporter of a cause or team.
A person who fights for or defends a person or cause.
To support, defend, protect and maintain a cause.
I Samuel 17:4,23
A champion is literally "the man between the two," one who goes forth on the behalf of another.
Will be a Kidology Champion?
If you find Kidology a blessing to your ministry – or you just want to BE a blessing to our ministry – NOW IS THE PERFECT TIME to help us out and "double your money" at the same time!
SPECIAL LIMITED TIME OFFER! (This is for March 2014 only!)
Become or renew your Champion Status, and we will send you the COMPLETE Kidology Leadership Labs Series ($219 value) as a "THANK YOU!" (Already have it? Then ask for either the Kidology Handbok ($59/$49) or Kid's Church Cookbook ($118) in the comments when you donate.)
That's a $99 donation – that comes right back to you in valuable resources!
Or donate any amount directly on our donation page.
We've had some significant programming and development costs above and beyond our monthly budget and we are seeking your help in meeting this immediate need. We are already 20% toward our goal/need – will you help us reach our goal?