Yup, I'm Gonna REFUND TWO Orders!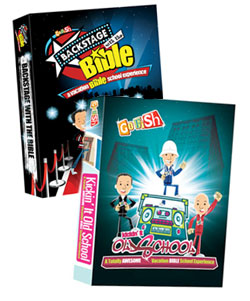 I am SO excited to have the GO FISH VBS KITS on Kidology.org that I'm gonna give a 100% REFUND to one of the first ten orders of EACH of their VBS Kits! Not only do I LOVE their music, but I love the strong emphasis their VBS materials place on Scripture!
You already SAVE $25 just by being a Kidology Member, and now you might just get it free!
Whether you go with their first unit Backstage with the Bible or the brand new release, Kickin' it Old School – or just order both – I'm gonna give a refund to one of the first ten orders of each! After we sell ten of either VBS, we will randomly select from the first ten orders and do a 100% refund and let the winner know who won via e-mail! So order right away!
WHAT IF YOU'VE ALREADY ORDERED YOUR VBS? Some of you have already picked and are half-way done planning your VBS programs! (You super admins, you!) Well, then, use these for an Awesome Kids Church unit instead!