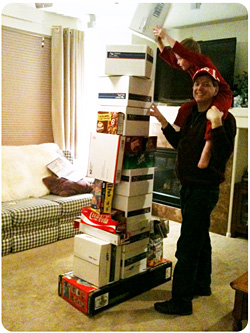 Tower of Babel
"How big is your children's ministry?"
I always hate that question. People always assume because I have a big website I am a children's pastor from some megachurch. I don't hate the question because my answer has never been a big number. I've always enjoyed answering with a small number and enjoyed the look of surprise I see.
I've been proud to serve in small to mid-sized churches and be able to relate to the "average" children's pastor.  I hate the question because it equates the size of your church to your value as a pastor.
That is why I never ask children's pastors the size of their ministry. I ask them to tell me stories about the kids in their church. I ask about their challenges and about what exciting new things they are trying. I ask them about what truly matters. Because, as Yoda said, "Size matters not."
Instead, now that I am a father, when people ask me how many kids are in my children's ministry, I answer, "Just one." After I see the puzzled look on their face, I say, "and his name is Luke." We have class time every evening. I call it "Pit Stop," due to his love of cars.
How many kids are in your children's ministry? If you are living out Deuteronomy 6, your family is your primary children's ministry. If you don't have kids or they are grown, don't focus on the numbers. Focus on the individual kids. Whether you have 20 or 620. It is the stories of changed lives that impress me. Have one ready for when our paths cross, OK?
Originally posted in the Kidology Newsletter March 2011