What am I giving my son for Easter? Of course he will get up and wonder where we have hidden his Easter Basket – and we will play our annual "Hot and Cold" game, just as my father and mother played with me and my sisters.
"Your so cold your toes are gonna freeze and fall off!"
"Getting warmer!"
"Getting HOT!"
"OUCH! You'd better put your shoes on you're so hot!"
"Oh, My! You need a pot holder you're so HOT!"
Soon the basket full of candy and goodies has been discovered, only to be told, "Oh, no! We gotta get ready for church! Hurry up! Where has the time gone!"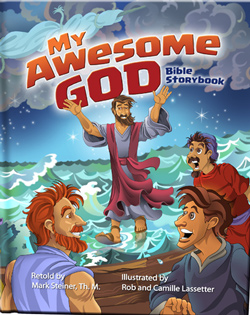 But along with the candy and little toys, there was always a gift of spiritual significance. Something to return some meaning to all the secular hoopla and manages to sneak into our Christian holidays now-a-days. And this year, I am so excited that DiscipleLand has JUST the thing for young learners! It's a brand new Bible Story Book – but it's more than just a beautiful re-telling of Bible stories, it a parenting tool that helps intentional parents talk to their kids about the character traits our our Amazing God! And that is just what I want to do with my son. So I can't wait to put the My Awesome God Bible into his Easter Basket in a few weeks.
You can order it on Kidology.org or on DiscipleLand.com and use discount code "Kidologist" and save $3. (An extra buck!) Either way is fine with me! I'm just glad YOUR KIDS are going to have such a wonderful way to be learning 200 stories and with them more about our Amazing God!
Because Jesus Loves Children,
Karl Bastian