Kidology.org's Mission is to EQUIP and ENCOURAGE those who minister to children – part of that equipping is gathering together the BEST resources for special events, and every year we pull together the best Easter Resources. Here is a sample of just three of the Easter Resources we highlight over on the Easter Resource Guide on Kidology.
CHECK IT OUT:

We know you use Kidology for great ideas, such as those found in our Easter Zone.  If you are looking for more resources, such as helpful curriculum, here's a guide to some Easter products in the Kidology Store you should explore!
---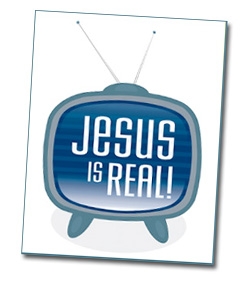 Tadpole Tails brings bring you a 4-week, sitcom-style video series featuring the news team from Breaking Action Daily News. This small-town newscast is dead last in the ratings until the skeptical producer, Bentley, orders news anchor Walter Riley to report that Jesus is a fake.
With the help of a young boy and a mysterious janitor, Walters investigative reporting leads him to a pastor, professor, physician, and printer. Each episode sheds new light on the fact that Jesus is real! While this may be "good news" to Walter, it causes lots of tension with the B.A.D. news team.

Buy Now for $58 – Member Price

---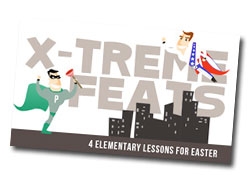 X-treme Feats, a 4-week Easter unit from River's Edge, can also be used any time of the year. Explore John 3:16 in a fresh new way as kids learn about Jesus' birth, Nicodemus and spiritual birth, and Jesus' crucifixion and resurrection. Kids will walk away with not only a deeper understanding of John 3:16 but will learn how belief in Jesus transforms their lives.
The lessons include Plungerman (drama), X-treme Feats trivia, X-treme Feats performer story, Bible Story, Prayer, X-treme Feat (illusion/science experiment), X-treme Stunt along with optional activities – craft, snack, comic strip, Bible memory activity, small group questions. A one-page X-treme Feats Herald is included for kids to take home. The Herald gives parents ideas for discussions and activities to do at home.

Buy Now for $45 – Member Price
---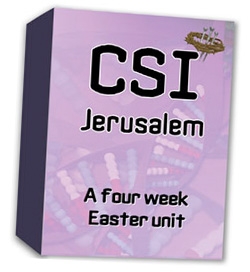 CSI Jerusalem is a 4-week Easter unit from River's Edge. Through fun, hands-on forensics science activities, explore the events surrounding Jesus' death and resurrection. Investigate the lives of those who knew him well and their reactions to the events.
As we learn about Peter, Mary Magdalene, John and Judas' actions and reactions, we are challenged to not only believe in Jesus but to allow him to transform our lives through his forgiveness and his love.
The lessons contain drama, puppets (optional), interactive Bible stories, forensic lab activities, object lessons, games, crafts, snack ideas, Bible memory activities and parent take home pages.

Buy Now for $35 – Member Price
PLEASE LIKE THIS ON FACEBOOK
TO SHARE IT WITH OTHERS!