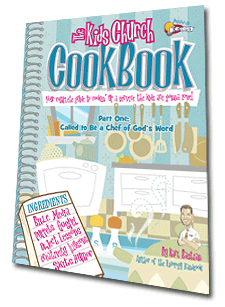 Writing the Kid's Church Cookbook was one of the biggest undertakings I've ever done. It was bigger than the Order of the Ancient novel, since it required design work and layout involvement that was much more intense, and bigger than the Kidology Handbook since not only is it over 100 pages longer, but it involved me filming seven complete training videos in a custom kitchen studio all while it was closed over a Christmas break… it was an insane time. I won't even bother typing all that involved, crazy story best saved for telling in person. While it took over two years to get the editing done, the filming was all done in just 3-4 days almost non-stop without sleep!
This post was inspired by some encouraging words I just got from a Kidology member named Martin Maynard, which I thought I'd share, in case you've been considering picking it up: (I edited to shorten and leave some stuff out.)
Karl, the reason I am writing is your Kids Church Cookbook is the best training I have ever come across in my years of reading and studying. I appreciate what you are doing through Kidology, what an amazing site.  I wish more folks would grab a hold of what  you are doing. I sincerely think your material is just awesome and it is just what we need.

I just read your chapter on Object Lessons and how you describe how to take an object and just start describing it slowly, giving time for the connection to be made between the abstract and the concrete. Truly amazing. I truly have read tons of books and there are some great leadership books out there, but none really touch on creativeness. Man you tackle creativeness head on and make it not so intimidating. I just think this material is just that good. I feel so blessed to have stumbled on your site and to have come across the material. I feel God lead me to it. Thanks for your work at raising up youth to be disciples.

– Martin Maynard
The Cookbook took several years to write and to produce the training videos that go along with it – and it is so encouraging when people take the time to send a note of encouragement. I have never seen an exhaustive work on Kids Church, and during this season of life when I'm not in weekly church ministry, I felt God telling me to use this time to write "everything I know about children's church" from having written and led over 1000 kids church services for over fifteen years of ministry. It was hard work, but oh so fun to do it in such a creative manner. (With the Chef theme that really played out nicely as it unfolded.) I tried to cover a wide spectrum of topics from lesson preparation to recruiting to room decorating to advance planning and so much more. It's kinda the definitive work on Kid's Church! Like I said, no one else has ever even tackled the topic on this scope or breath before. And with the addition of seven training videos, it really became a hefty project!
But in the end, I think it's quite a helpful tool that should serve those who teach kids and lead Kids Church for years to come.
Thanks Martin for your encouragement! I'm glad it is helping your kids church team, and I hope it will help many others to cook up lessons that kids are gonna love and provide the tools to assist in preparing more spiritually nourishing lessons wherever the Cookbook is used!