Folks have asked me to describe the Family Show we do before our Easter Egg Hunts, so I'm providing some files and a video walk through to help describe what you we do.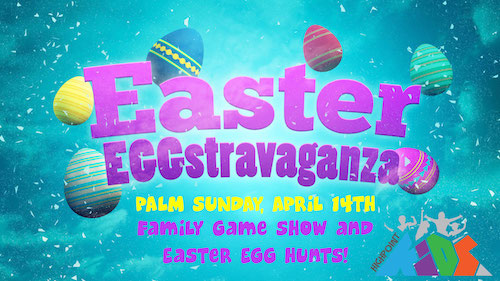 The EGGstravaganza Show is a high-energy interactive game show experience that will involve both selected volunteers from the audience, as well as full audience participation elements. The theme is "That's Impossible" as participants attempt to do impossible feats! At the end, they will learn that the Bible says (twice), "…with man this is impossible, but with God, all things are possible!" They will learn that Easter is about the Ultimate Impossible Feat: Jesus, who raised Himself from the dead! We all face challenges in life – you may be facing something right now that seems impossible – but with God, the impossible can happen! THAT is the true meaning of Easter – we have a risen Savior who can do the IMPOSSIBLE: save us from our sins and help us be victorious in life!
Pre-Show walk through:
Post-Event highlight video:
The games I either bought on Amazon.com, have owned for years or found the items around the church. The key is big and fun. The TP Bazooka plans can be found here.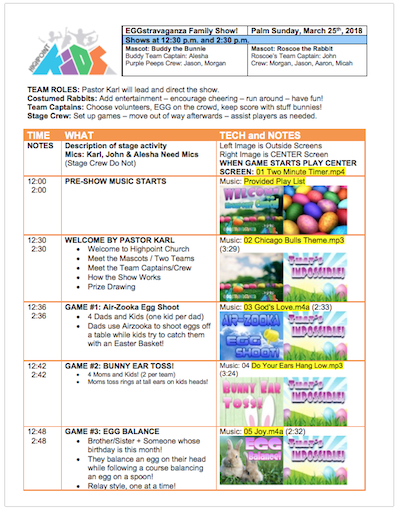 At the link below you can find sample PDF files to show the plans and slides we used, but not included are the RPM files and count downs, which you'd need to purchase to have the rights to use, but you can use any fun music or countdowns you own the rights to use.
After the show, the kids all went to age specific Easter Egg Hunts. We repeat the enter event twice to accomodate large crowds.
We use eventbrite.com to manage registration. The great thing about using this tool, is that the list keeps growing. We've used it to bring in Kidz Blitz, The Amazing Chemistry Show and to invite people to Christmas Services, etc. and it's completely free.
Download EGGstravaganza Files here