You will LOVE Roster Check-in! Why?

When I was over both kids and youth for a season while our church was looking for a youth pastor, I quickly recognized that our youth ministry was not as secure as the kids' ministry. Teens were coming and going and guests were not being registered. I was worried that a parent was going to show up asking where their child was and I would end up responding with a dumb look on my face. Knowing teens will be teens, I was worried that youth group could be used by a savvy kid as a way to be out and about while parents thought they were at church! I decided that wasn't going to happen on my watch! But putting stickers on teenagers wasn't exactly a realistic option! There was no way I was going to get the "cool kids" to put name tags on or get parents to come in a use a sticker code check to pick up their kids. Teens are old enough to leave when we dismiss, and many of them drive. But I still wanted accurate attendance and registration. How delighted I was to discover that, as usual, KidCheck has created a solution!
It's called Roster Check-in!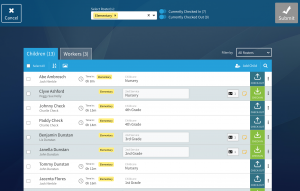 And, of course, it's not just for youth. It can be used in classrooms, for child care, or during special events.
With Roster Check-In, check-in and -out is even faster and simpler, providing an option for administrators to check kids in based on roster lists of names they create, rather than needing parents to complete the full check-in process.
It's perfect for youth groups, classrooms, camps, schools, VBS, group activities, bus pick-up, and numerous other scenarios. Great for both in-person and online attendance. You know which kids are expected to attend, so you can create a roster of those children and have it ready and waiting to check them in with the click of a button. You can check in a child individually or multiple children at one time. If enabled, labels will print upon check-in.
It's just as easy to check kids out from the roster list with the click of a button. Extra helpful for tracking and checking kids out of classrooms, when done with camp for the day, or when ready to go home at the end of the activity.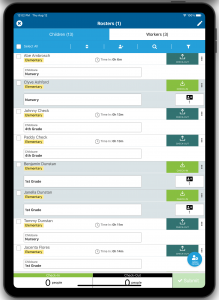 Plus, Roster Check-In provides a real-time digital roster replacing the paper or clipboard method and providing an at-a-glance status of who is checked in or not.
To use Roster Check-In, simply create the roster(s) from information in KidCheck, choose Roster Check-In when starting check-in, and pull up the appropriate roster list to check child(ren) in/out with the click of a button.
Roster Check-In is the perfect check-in solution for your list-based check-in needs.
I invite you to check it out! I know you'll love it as much as I do!