The LEAST vs. GREATEST GAME!
"The Last Shall Be First"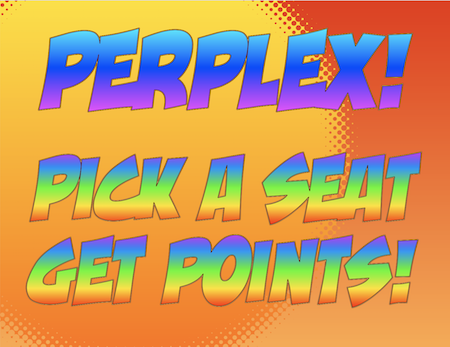 Prep: Number the Chairs: ROW # and SEAT # (Signs Provided at Link Below)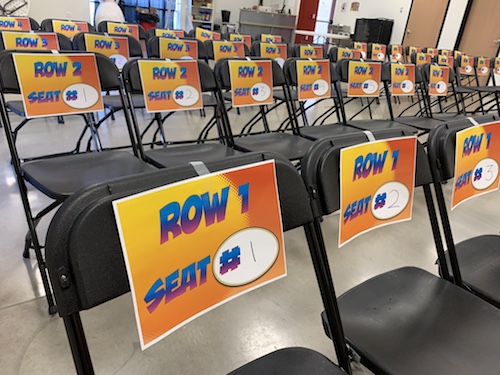 Points: You need something physical for points – popsicle sticks, beans, etc. Something that can be passed out quickly that kids can hold so the points are tangible.
PLAY: Kids Move Around and Choose a Chair, then the next RULE is read! (Option: You can make it appear that the rules are random by drawing a rule from a hat, just make sure you draw the final rule last.) Don't mislead or lie to the kids, but you can make it appear that the winner will be those with the most points. This is a natural assumption. The final rule will turn that around! Those who thought they were doing poorly will win, and those who thought they we were winning, weren't.

The last slip taped to side so it can be drawn last.
NOTE: When you have many winners (like Odd or Even numbers) to speed up the game, just say "If you won come up here and get a point." Don't challenge any kids who may come up to get a point who didn't really win, they will learn a lesson in the end, because the extra points they took that they didn't earn will actually end up counting against them. You won't need to point this out, and certainly don't embarrass any child, but they will know their cheating made them lose at the end of the game.
At the end of the game, the winners will be surprised that they won! Read Matthew 19:30, Mark 10:31:
But many who are first will be last, and many who are last will be first. (Matthew)
But many who are first will be last, and the last first. (Mark)
Talk about how many people think the way to win in life is to GET GET GET, and many even lie, cheat and steal to GET more than others. But they will be the surprised ones when they end up not winning. And many who spent their lives GIVING will be also surprised when they see how much God rewards them!
The life God truly awards is the life lived serving others.
DOWNLOAD ALL THE RULES, SEAT SIGNS and MORE GAME PLAY TIPS and INSTRUCTIONS at:
Kidology.org/perplexgame